Camp Wakonda is blessed and excited to announce our new
Pastor and Director of Camp Wakonda, Reverend Ben George!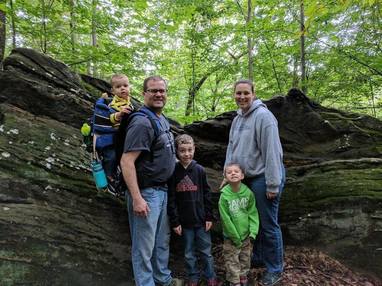 Ben was born and raised in Perry Township, Ohio. He graduated from Perry High School in 2001. He received his BSE degree from Kent State University (Integrated Language Arts) in 2004. Ben joined the staff of Christ Presbyterian Church the following summer as Youth Director, also serving as Program Director at Camp Wakonda. He held this position for four years.

In the summer of 2007, Ben married Kate in a worship service and reception held at Camp Wakonda. In the fall of 2008, Ben and Kate moved to Princeton, New Jersey and Ben began his study of ministry. He received his Masters of Divinity (M. Div.) in 2011. Later that summer, Ben accepted a call to serve as Pastor of the First Presbyterian Church of Minerva, OH. Ben (and Kate!) have served that congregation these past six years. Throughout these years, they have also been active in the life and ministry of Camp Wakonda, serving as they have been able.

Ben and Kate have three sons: Levi (7), Ezekiel (5), and Abram (2). Family time is their number one priority. However, when there is spare time, Ben enjoys video gaming, reading, and the great outdoors.
---